The poems paint scenes within intricate worlds of both small pleasures and deep loneliness. Duan's collection sets up two main, but related, streams of conflict with the eponymous poem "I Wore My Blackest Hair."
Writing by Subhanya Sivajothy
A man with a leaf-pattern shirt takes me by the shoulders, and I instinctively turn my head. He kisses me, quickly, in the space between my cheek and my mouth. I laugh like I've swallowed something sharp, and back away.
These men want to fuck me.
Writing by Saima.
I have come to call this the turmeric tax: it's the price that Eastern traditions have to pay in order to enter into Western consciousness.
Writing by Aditi Joshi
We've just published our firsts issue.
Read the full issue here.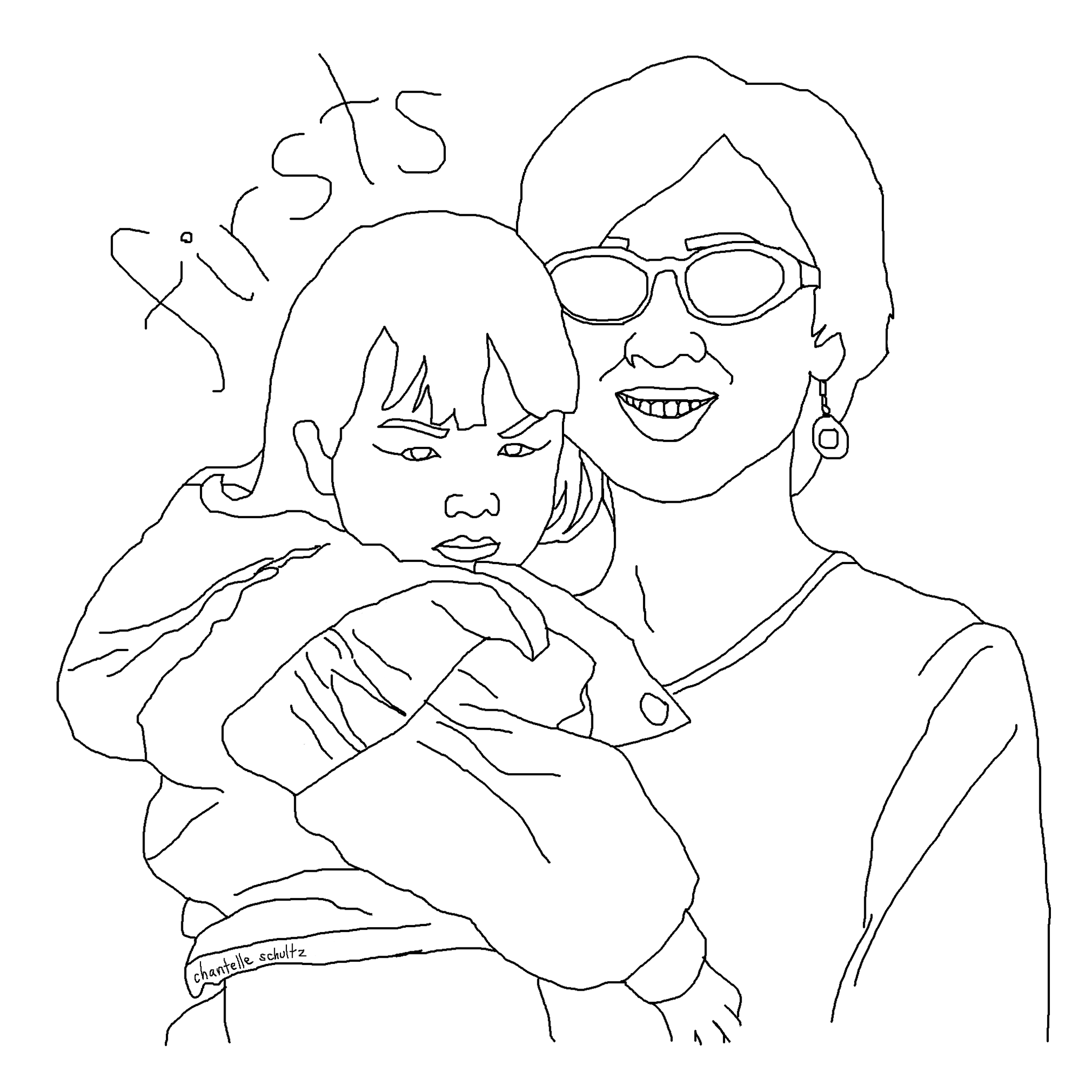 The re:asian editorial team reflects on our first issue, FIRSTS
For children of the diaspora, there's a shame that precedes so many of our firsts: admitting that you don't know how to cook your grandmother's congee, that you've never set foot in the country where your parents grew up, or that you've never learned to like your body. As contributor Nina Sudhakar writes about learning to tie a sari for the first time, "it feels like a failure as fundamental as forgetting how to breathe." Certain firsts mean forcing open the doors that were closed to us by the constraints of assimilation and white supremacy.
Read the issue here, and our full editors' note here.
Illustration by Chantelle Schultz.
My adoptive parents had never heard of this genetic condition and consequently never warned me about it. Regardless, this was a tangible, physical phenomenon connecting me to my Chinese ancestry, whether I liked it or not.
Writing by Ashley Dawn Louise Bach
Art by Tina Lê and Helen Yu
College boy with
too much time, reads a page
of Marquez, thinks he's a genius.
Now, a cold body against cold
limestone.
Poetry by Eileen Huang
Illustration by Béatrice Bùi
A conversation between Sarah Gotowka and Carrie Freshour explores their shared experience of being transnational Korean adoptees, and their lasting friendship and sisterhood that grew after a chance encounter at Taste of Thai Express.
Writing by Sarah Gotowka and Carrie Freshour
Every visit feels like the first
when your lola has Alzheimer's
Photograph by Rachel Evangeline Chiong
Hue Nguyen's poetic comic explores the internalized psychological ramifications of trauma from the refugee boats from Vietnam to Hong Kong and the refugee camps themselves.
content warning: trauma
Illustration by Hue Nguyen
For a grade 7 art project, Hue Nguyen found out how her parents arrived in Canada.
content warning: violence, trauma
Illustration by Hue Nguyen